Printer-friendly version

Join us for the 2018 University of Georgia Bassoon and Oboe Symposium on Sunday, March 4, 2018!  We will have a wonderful day full of classes, performances, vendors, and more. Our guest artists this year are Jeffrey Rathbun, Assistant Principal Oboe of the Cleveland Orchestra, and Barrick Stees, Assistant Principal Bassoonist of the Cleveland Orchestra and Instructor of Bassoon at the Cleveland Institute of Music and Kent/Blossom Music. In addition to master classes with our guest artists and resident UGA faculty members, students will also be able to attend reed class or a class on being a college music major, attend the faculty artist recital, and perform with the symposium double reed ensemble.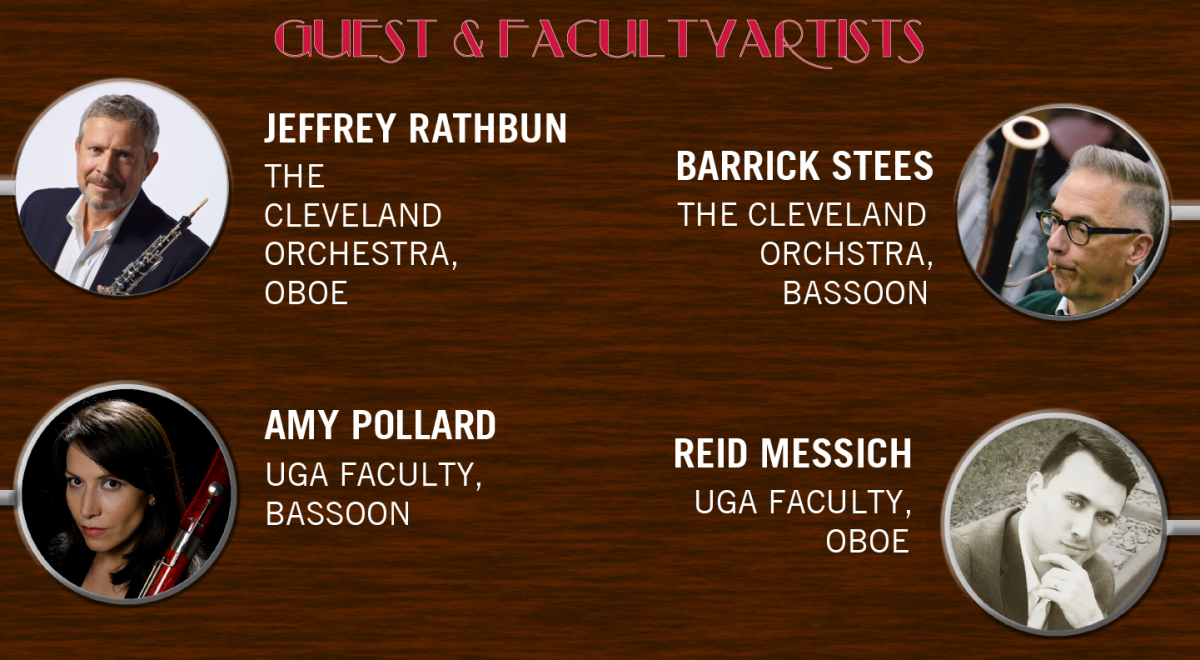 We will have a separate master class for beginning students and junior high school students to work on issues unique to starting bassoon and oboe. Students will be able to try out instruments and purchase cane, reeds, instruments, and other accessories from our fantastic vendors: Midwest Musical Imports, Fox Products, Miller Marketing, Buffet Crampon, Oboe Chicago, and McFarland Double Reeds.
There will be several spots available for students to play in the guest artist and UGA faculty master classes. Register early to reserve a spot!
Registration is available online this year with a credit card, or applications can be printed and mailed in to the address below. The cost of $60 ($65 if registering by mail) covers attendance, lunch for participants, and a symposium t-shirt. Registration is due by Monday, February 19th in order to secure lunch and a t-shirt.
All events will be held at the UGA Hugh Hodgson School of Music at the address listed below. Parents are welcome for the day's events, but we cannot provide food for parents.
Any questions or concerns can be directed to Dr. Messich (oboe) at rmessich@uga.edu or Dr. Pollard (bassoon) at marinell@uga.edu . We look forward to seeing you in March!
All mailed in applications can be sent to:
Amy Pollard
UGA Hugh Hodgson School of Music
250 River Road
Athens, GA 30602