UGA Piano Pedagogy Symposium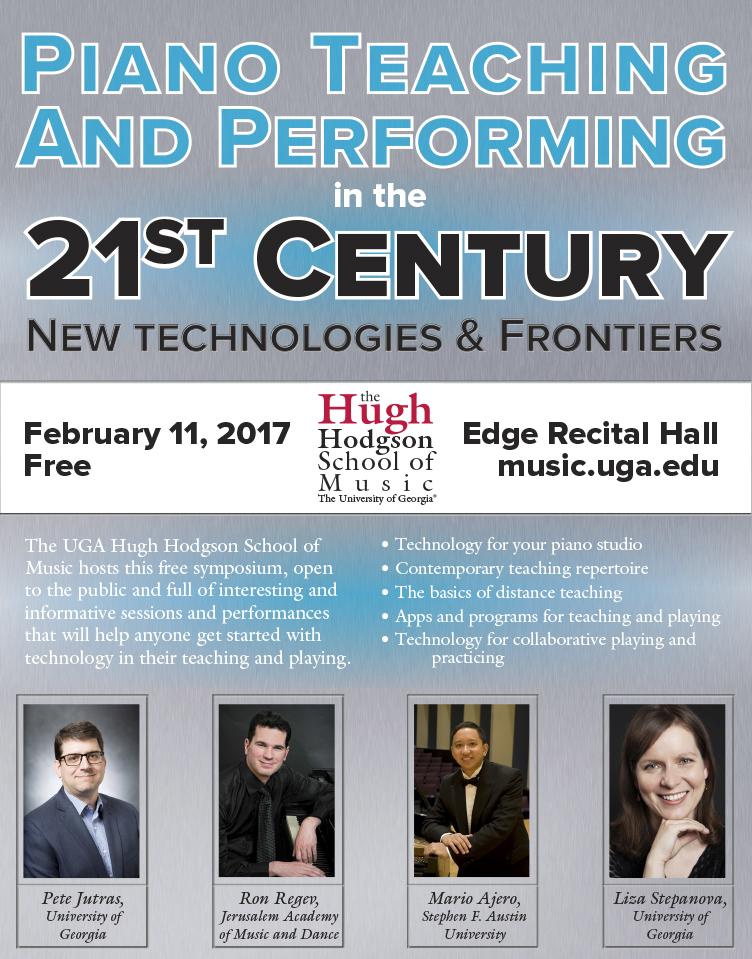 Download/view a full-resolution version of this info sheet. [1]
Piano Teaching and Performing In the 21st Century
New Technologies and Frontiers
February 11th, 2017
Hugh Hodgson School of Music, 250 River Road, Athens, GA 30602
10:00    Check-in, Edge Hall lobby (Third floor, School of Music)
10:30    Mini-Performance I
10:45  Technology for Listening and Collaboration
        Dr. Mario Ajero
11:45    Studies in Momentum—Interactive Technology in the Piano Recital    
        Dr. Liza Stepanova, Dr. Peter Lane, and UGA graduate students
12:30    Lunch 
        Buffet available at Village Summit Dining Hall, or eat on your own
        Used music for sale in Edge Hall lobby (benefits UGA MTNA chapter)
2:00    Teaching Piano in the Digital Age: Sheet Music and Teaching Aids
        Dr. Ron Regev
3:00    Anthologies of Contemporary Music for Intermediate and Early-Advanced Students
        Dr. Liza Stepanova
3:15    Mini-Performance II 
3:30    Coffee Break and Reception; Used Music Sale
        Hosted by the UGA Piano Faculty
4:00    Setting Up Your Studio for Distance Teaching
        Dr. Mario Ajero
5:00    Teaching in Kenya (from Georgia)
        Dr. Pete Jutras
5:30    Conclusion, Audience questions
Download the full schedule, with presenter bios and mini-concert programs. [2]
For more information, contact Pete Jutras at pjutras@uga.edu. [3]