Printer-friendly version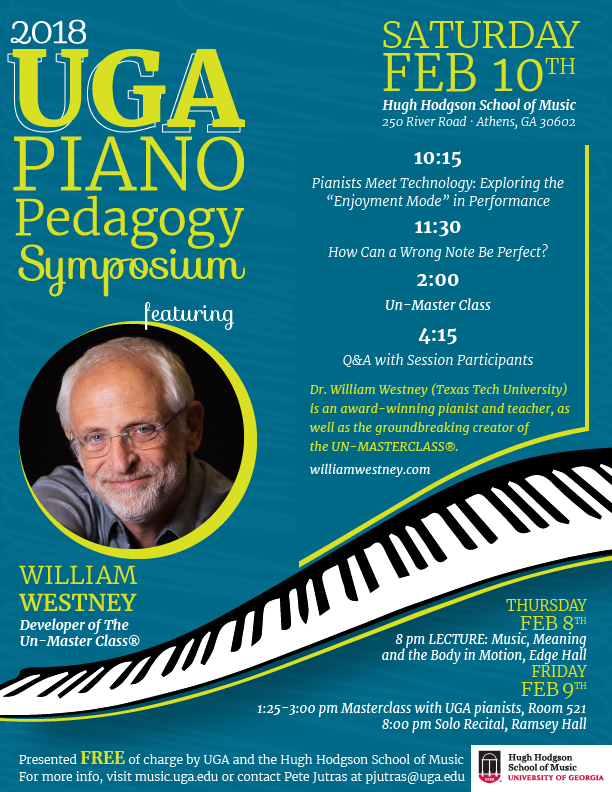 William Westney Events
Thursday, Feb 8th
8:00 PM: Lecture: Music, Meaning, and the Body in Motion, Edge Hall
As Hans Christian Andersen famously said, "When words fail, music speaks" - and the meaning of music, as important as it is in our lives, is notoriously hard to capture in words. At music schools, however, we still should try, from time to time, to do just that. What does music really mean to us, and what are we sharing with our audiences? This lecture focuses on the body, on gesture, and on a physical approach to aesthetics.
Friday, Feb 9th
1:25-3:00 PM: Masterclass with UGA pianists, Room 521
8:00 PM: Solo recital, Ramsey Hall (program linked below)
Saturday, Feb 10th - UGA Piano Pedagogy Symposium
10:00 AM - Registration and check-in for participants
10:15 AM - Pianists Meet Technology in a Research Study: Exploring the "Enjoyment Mode" in Performance
This presentation reports on the work of a transdisciplinary research team that used two high-tech methodologies: motion-capture recording and fMRI brain scanning. The subject was classical pianists and the interesting things that happen then they are invited to simply "enjoy themselves" while performing.
11:15 AM - *coffee break*
11:30 AM - How Can a Wrong Note Be Perfect?
Is perfectionism healthy or not?  Should we avoid mistakes or embrace them?  How can our musical pursuits keep their natural joyousness? This presentation – inspiring, candid, sensible – questions much of the "conventional wisdom" about music lessons, and has been enthusiastically received at conventions and meetings throughout the U.S., Europe and Asia.
12:30 PM - *lunch break*
2:00 PM   - Un-Master Class
The Un-Master Class® is a popular and unique performance workshop, developed by William Westney and designed as a lively, engaging alternative to the traditional master-class. It was profiled in a major New York Times article. Starting with interactive group warm-ups, an environment is created that builds trust, dissolves barriers, and encourages the authenticity of each performer's individual artistry.
4:15 PM   - Q and A with session participants
5:00 PM – Symposium ends
For more information, contact Pete Jutras at pjutras@uga.edu.