Printer-friendly version
The musicology/ethnomusicology area of the Hugh Hodgson School of Music received a significant, historical gift earlier this year when Mary Oyer, professor emeritus of music at Goshen College, donated over 70 antique and modern African musical instruments to her former student, Jean Kidula, professor of music at the Hodgson School.
"The instruments are some of the most classic that have been studied, originating from different culture groups in various African countries," said Kidula. "The variety is staggering, even among instruments of the same family."
In December, Kidula traveled to Goshen, Indiana, where she had spent a year studying Piano Pedagogy with Oyer. Oyer has led a long and illustrious career, teaching at Goshen College from 1945-1987, publishing two Mennonite Hymnals and countless songbooks, and collecting and recording traditional music in 22 African countries, including Kenya. 
Kidula and Oyer first met when Oyer taught in Nairobi.
"I met Jean Kidula when I taught a small class of senior music students at Kenyatta University College, Nairobi," said Oyer. "She was a fine student who hoped to work for higher degrees."
Oyer encouraged Kidula to come to Goshen, and the two struck up a strong relationship that brought Kidula to Indiana and has lasted ever since.
"We kept in communication during her time after Goshen, at East Carolina University and UCLA," said Oyer. "I believe It has been a mutually rich and valuable friendship."
"More than anyone, she inspired me to examine African music more critically than I had thought possible in the academy," said Kidula.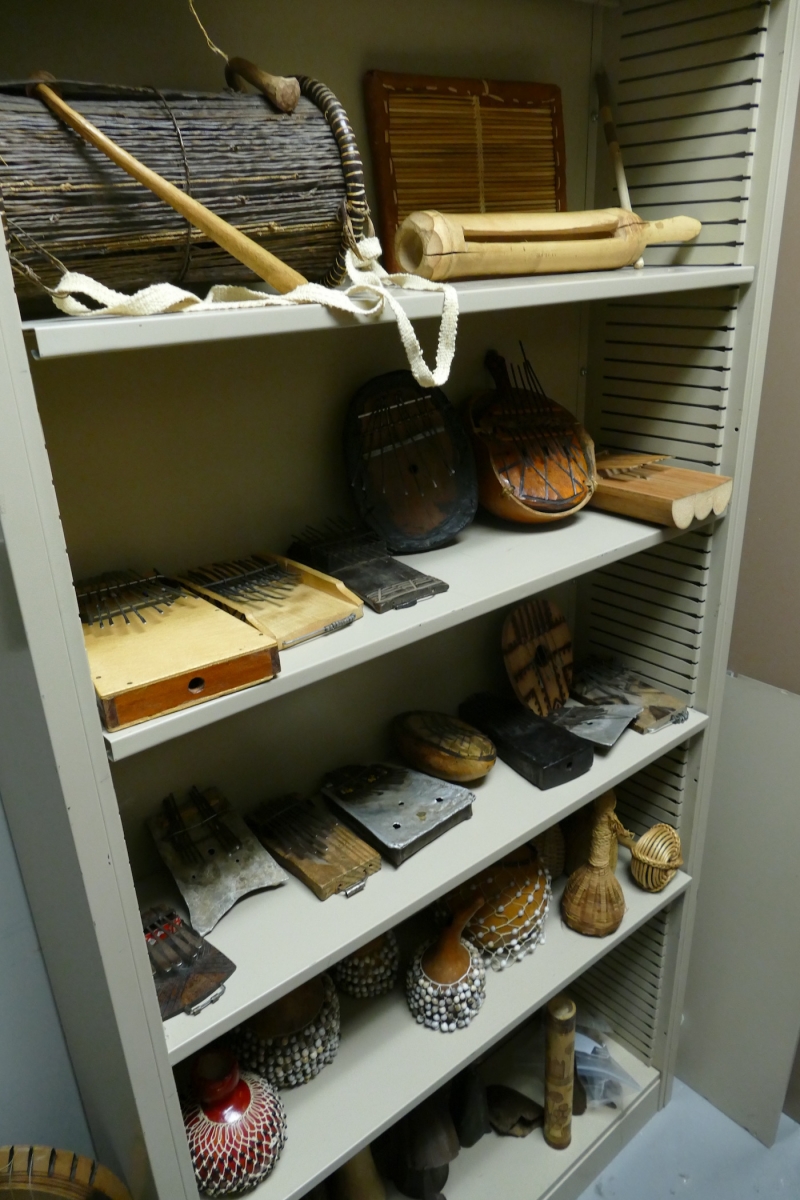 Oyer has been collecting the instruments since 1969, so her collection—which has been partially donated to Goshen College and Indiana University's EVIA Digital Archive—is extensive in scale and scope. Each instrument has its own rich story, whether humble or, in one particular instance, royal.
"I started collecting in the summer of 1969, when I spent 10 weeks with university teachers with a government grant, lead by faculty of UCLA," said Oyer. "I went home by way of Uganda, where I discovered that the Kabaka, [the king of Buganda, a subnational kingdom within Uganda] had just been exiled. 
"His group of court musicians were playing in the Kampala Museum on their varied instruments. Dr. Kidula has the one-string instrument I bought from one of those fine players."
During their time together this past December, Kidula had thought she might be going home with a few African instruments from Oyer's personal collection, based on several prior conversations. 
What Kidula got, however, was a sizable portion of that treasure trove. Nearly 80 instruments: most given to Kidula during her December trip to Indiana, and the rest delivered later.
"I personally had read a lot about some of them, listened to recordings and analyzed the recordings, but I had never seen or handled them," said Kidula. "Therefore, it is such a joy to put hand, eye and ear to the actual physical instrument."
Oyer states her reasoning behind giving such a large number of instruments to Kidula simply: "I knew of no one better prepared than she to use them in teaching." And indeed, Kidula has already made use of these new teaching tools in her classroom, expanding students understanding of Africa, African music and even their own, contemporary music.
"I hope they get a new understanding of European and American musicians or artists in classical and popular music who have appropriated ideas from the sounds or the structures of the instruments to enrich their continental soundscapes," said Kidula.
The Hugh Hodgson School of Music at the University of Georgia is a rising national leader in musical education and performance. With over 300 undergraduate and 200 graduate students, the School of Music trains the music performers, educators, scholars, composers and therapists of tomorrow with world-class facilities, unparalleled instruction and hundreds of performance opportunities each year.