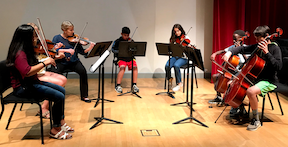 What is chamber music?
Chamber music is performed by small ensembles of fewer than a dozen players without the help of a conductor. Instead, each member of the ensemble demonstrates leadership skills at appropriate times. Chamber musicians, while playing as a group, also function as soloists in that they are each responsible for their own individual part, different from anyone else's within the group.
As part of the CMS Chamber Music program, students will be assigned to an ensemble of 3 - 6 players of similar ability. Repertoire will be assigned ranging from classical, pop, and folk genres. Ensembles can range from traditional string quartets (2 violins, 1 viola, 1 cello), to similar instrument ensembles (5 cellos in a cello choir) depending on enrollment.
Students participating in Chamber Music must have a basic ability to read music and will be responsible for learning the notes and rhythms to their chamber music pieces at home or with their private teachers prior to the first meeting, not during rehearsal times. Throughout the coachings, students will work on crucial chamber music skills of listening and responding to group members musically, leadership skills, diplomacy, rehearsing techniques, music history, composer information, and chamber music performance etiquette. The semester will conclude with an informal performance for family and friends.
Placement Audition:
All Chamber Music students will also be scheduled for a brief placement audition each semester. See below for the exact dates and times. Students will be asked to play a scale of their choice, a brief selection of a piece of their choice, and a sight-reading excerpt. The purpose of the placement audition is to enable us to put students with similar abilities together in groups. This day will also serve as a Meet and Greet where students will receive valuable information about the semester, and meet other participants.
Weekly Chamber Ensembles
Kathleen Powell, String Coordinator
Placement auditions:  September 4, 2020 and January 15, 2021
4:30pm, Room 200, Hugh Hodgson School of Music
8 weeks of coachings: Sept. 14 - Nov. 6, 2020 and Jan. 25 - March 26, 2021
$110 each semester
Summer Weekly Chamber Ensembles
Placement auditions: May 2021 TBD
5 weeks of coachings: Schedule determined per group once formed after placement auditions.
$75
String Chamber Music Camp
Kathleen Powell, Coordinator
TBD, Summer 2021
Placement auditions: TBD
Hugh Hodgson School of Music, Room 200.
Register here 
Tuition: $190
The Chamber Music Workshop is for students who would like to participate in chamber music but are not able to make the commitment of the weekly schedule. Instead, the Workshop will meet 4 consecutive days from 10 - 3. The schedule for each day is below.
945 - 10:00 - Check-in, get tuned
10 - 11:15 - Performance Group Coaching
11:20 -12:10 - Sightreading
12:15 - 12:45 - Lunch (students bring their own)
12:50 - 1:50 - Master Class Coaching
2 - 3pm - "Hands on" music enrichment
The final camp performance will be held Thursday in Edge Hall. All family members and friends are welcome to attend!
Students will be organized into groups after the auditions date, and music will be sent via email. Students will spend the first portion of the Workshop on performance repertoire. After lunch, each group will stay together, but will have a different coach for Sight-reading. This repertoire will be easier than their performance piece, and this opportunity enables the students to become more familiar with the chamber music repertoire available to them in the future.
After lunch all groups and coaches will combine together and each group will have a short open rehearsal/coaching in front of the other groups. Audience members (other participants) will have the opportunity to give feedback (and learn constructive ways to do so). This will also be a time for students to learn and practice stage/performance etiquette, get to know more about the history of chamber music, and to interact with the other participants.