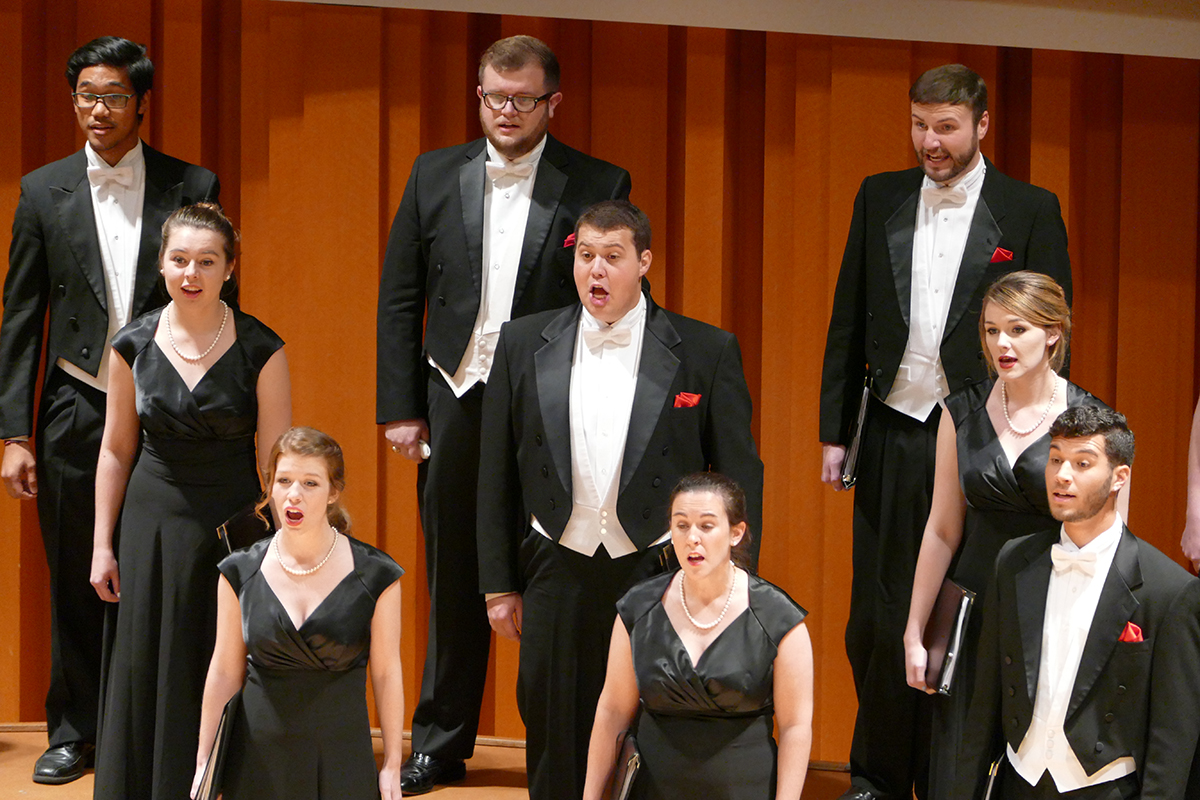 Audition Requirements 
The voice faculty at UGA embraces a variety of singing styles, from Western classical to musical theater, jazz to singer-songwriter and beyond. We want to get to know you as a singer and individual, your past experiences and career aspirations, through the audition process. We require two pieces, one song or aria from the traditional Western classical repertoire, and one song in any singing style where you can showcase your talents and interests. 
Present two memorized selections to include:
1. One song in any language in any singing style in which you are comfortable.
This selection may be self-composed if you are a composer or songwriter.
2. One song or aria from the Western classical tradition. Suggested anthologies:
30 Italian Songs and Arias of the 17th and 18th Centuries (Edition Peters)

26 Italian Songs and Arias (Alfred Music Publishing)

24 Italian Songs and Arias of the 17th and 18th Centuries (Hal Leonard Publishing)

Standard Vocal Literature (Hal Leonard Publishing)

Singer's Library of Song (Alfred Music Publishing)

Spirituals of Harry T. Burleigh (Alfred Music Publishing)

Pathways of Song (Alfred Music Publishing)

Easy Songs for Beginning Singers (Hal Leonard Publishing)

The First Book of Solos Series (Hal Leonard Publishing)
Your audition will also include:
vocalizing with one of the voice faculty

 

sightreading a short excerpt

a brief interview with the faculty
Accompaniment for Live Auditions
Selection 1

("freestyle" piece)

may be self-accompanied or you may use a pre-recorded track if appropriate. You may also opt to bring your own pianist or work with our staff pianist (see below).

Selection 2 (Western classical piece) must be sung with live piano accompaniment, either with your own pianist or our staff pianist.
To secure a UGA staff pianist, you must submit your music application at least three weeks prior to your audition date. Your music must be uploaded with your application on Accept'd, with any cuts clearly marked. You will have a brief rehearsal with the staff pianist just prior to your audition.
You are required to secure your own accompanist if you do not attend one of the official audition dates or do not submit your application and music three weeks before the audition. Please email Music Admissions for more information on finding an accompanist.
Distance Auditions
Applicants who live beyond a 250-mile radius of Athens, GA may submit video recordings of their audition selections to be considered for admission to the School of Music. However, to be considered for scholarships, you must perform an on-site audition. Please contact Music Admissions to request permission before submitting a distance audition video.
Guidelines for distance audition videos
Repertoire questions? Email Dr. Elizabeth Knight.
Admissions questions? Email Music Admissions.