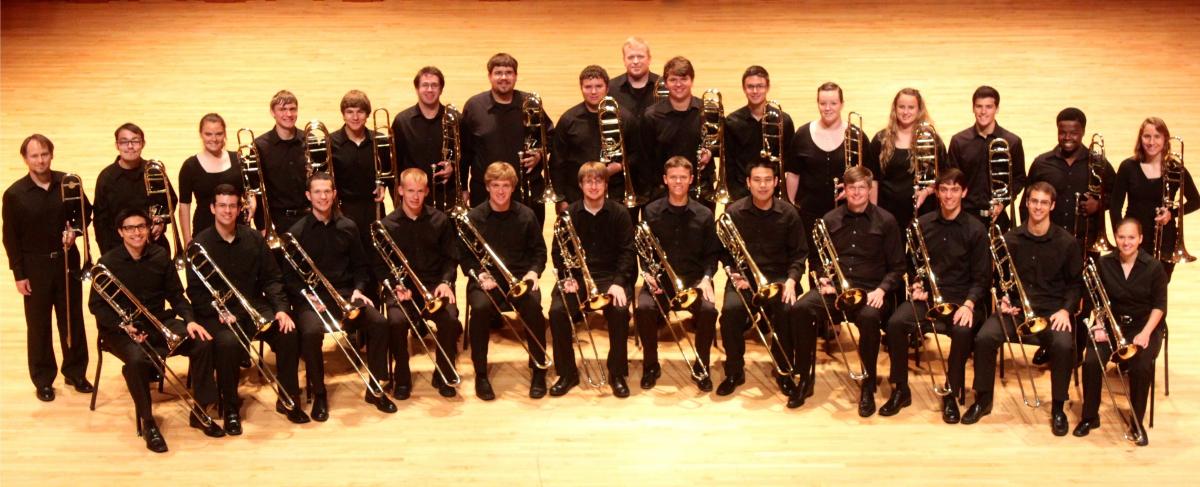 The UGA Trombone Choir provides a musical outlet for studio members and non-majors alike.  Directed by Dr. Josh Bynum, this group meets twice each week, and features a variety of musical styles and creative opportunities for the students (including conducting, arranging, and soloing).   Repertoire for the Trombone Choir ranges from original literature to transcriptions of classical and popular music.  We are also committed to new repertoire, having participated in several commission consortiums.  
In addition to campus concert and engagements, the UGA Trombone Choir has been a featured ensemble at the GMEA Conference, JanFest Showcase, and also performs at UGA Athletic Events.
The UGA Trombone Ensemble is a select group of twelve members from the UGA Trombone Studio.  This modular group is comprised of three trombone quartets, performing in a variety of combinations.  The UGA Trombone Ensemble has one extended rehearsal each week, and is driven by the benefits of chamber music.   Repertoire consists of musically and technically demanding original works and arrangements that showcase the abilities and qualities of the group.  
In addition to campus and community engagements, the UGA Trombone Ensemble has been featured at the International Trombone Workshop, Eastern Trombone Workshop, and GMEA Conference.  This group is designed for ease of outreach, and performs regularly for area schools, retirement communities, and music guilds.