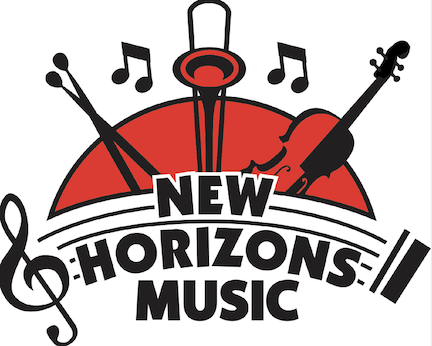 "It's never too late to learn" is the motto of New Horizons Ensembles!! New Horizons Music programs provide music making opportunities for adults, generally over the age of 50, including those with no musical experience at all, and those who were active in school music programs, but have been inactive for a long period.
Active participation in music fills important needs for adults—the need for challenging intellectual activity, the need to be a contributing member of a group, and the need to have future exciting events to look forward to. For many people, music can serve these vital needs better than anything else.
Here is what some participants have said:
" Being old, retired, and widowed, I joined the band to have something to
do. Now I don't know what I would do without it."
" This comes at a time in life when you have the time to devote to it. When you join the band, you stick with it. Not many people drop out. It's something that holds you."
For additional information about New Horizons International Music Association, visit: www.newhorizonsmusic.org
New Beginners welcome anytime!
Contact the CMS office to get started TODAY!
NEW HORIZONS BAND
Joyce King, Director
Wednesdays, 12:00 - 1:30pm
Church at College Station, 1225 College Station Road, Athens, GA 30605
$75 per semester
Fall 2022: Aug. 22 - Dec. 16
Spring 2023: Jan. 17 - May 5
NEW HORIZONS STRING ENSEMBLE
Fall 2022: TBD
Wednesdays 10:30 - 11:30am
$95
12 week semesters
All New Horizons Band and String Ensemble participants will be responsible for providing their own instrument, and black folding music stand.
Adult string players interested in playing in a chamber music group are encouraged to check out our chamber music page!!
ADD-ON LESSONS to ensembles: Add two 30-minute private lessons to your ensemble experience: $60.
Lessons are scheduled at mutually convenient times between instructor and student,
and will be held in the UGA Hugh Hodgson School of Music building.