UGA at Oxford Program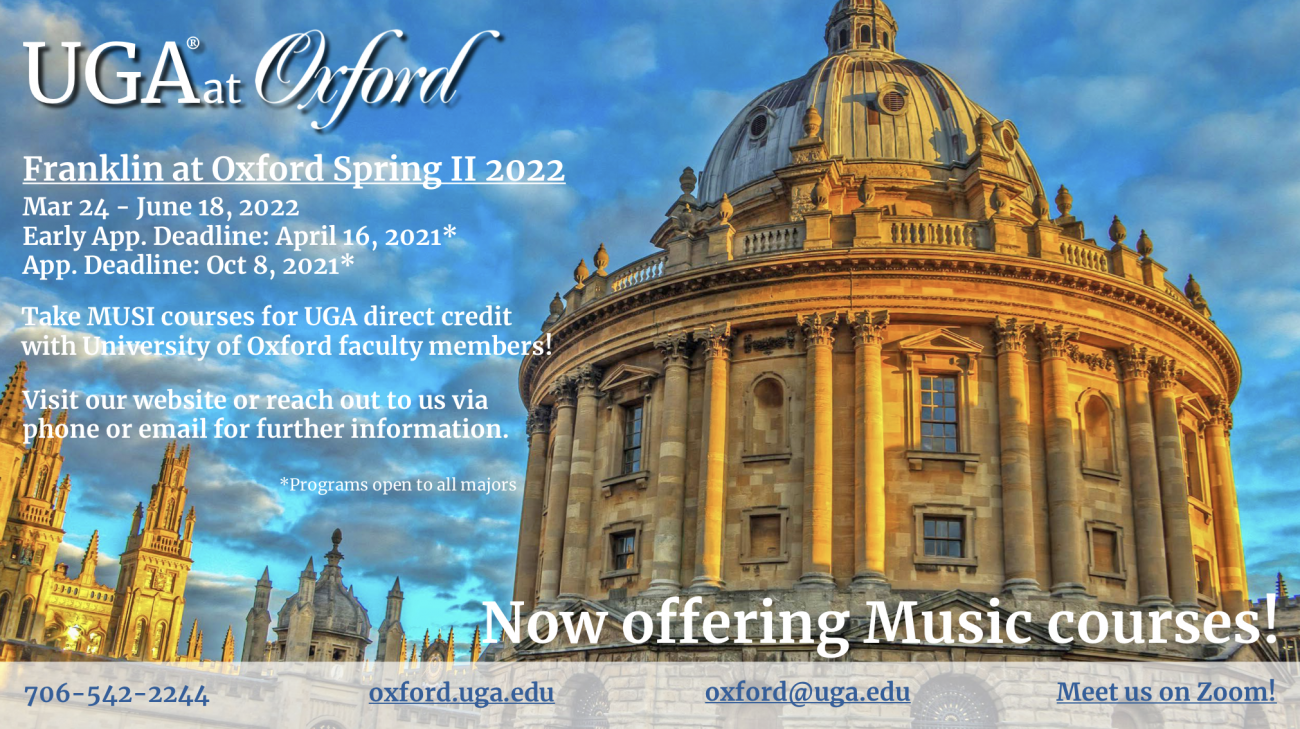 Join the UGA at Oxford Program as a music student! Learn all about it with this interactive PDF!
Want more information about Spring Session II 2022?
Program Dates: March 24, 2022 to June 18, 2022
Early Application Deadline: April 16, 2021
Standard Application Deadline: October 8, 2021
MUSI Courses on Spring Session II 2022:
·       MUSI 5150/7150: Jazz in New York and London (David D'Angelo, UGA) 
·       MUSI 2810-2810L: Sophomore Applied Instruction
·       MUSI 3210: Music History I
·       MUSI 3220: Music History II
·       MUSI 3810-3810L: Junior Applied Instruction
·       MUSI 4810-4810L: Senior Applied Instruction
·       MUSI 4000: Directed Independent Study in Music: Large Ensemble
·       MUSI 4784/6784: Jazz Improvisation I
·       MUSI 5106/7106: Jazz Combos
Scholarships available! Please direct all questions to oxford@uga.edu.
Italy Music Study Abroad
Website: http://musicabroad.uga.edu/index.html
The Hodgson School's Study Abroad program offers students an exciting opportunity for intensive practice and performance in the culturally rich surroundings of Italy. Students have wonderful opportunities to perform with Italian musicians in a wide variety of chamber and orchestral ensembles through international partnerships with Italian conservatories and diverse musical organizations.
The three-week program includes daily lessons with both UGA and Italian faculty, opportunities to play alongside local musicians, and weekly performances in locations like Milan, Torino, Parma, Venice, Perugia and Rome. Frequent excursions to museums, opera houses, and historical sites are also included.
Please direct all questions to mmasciad@uga.edu