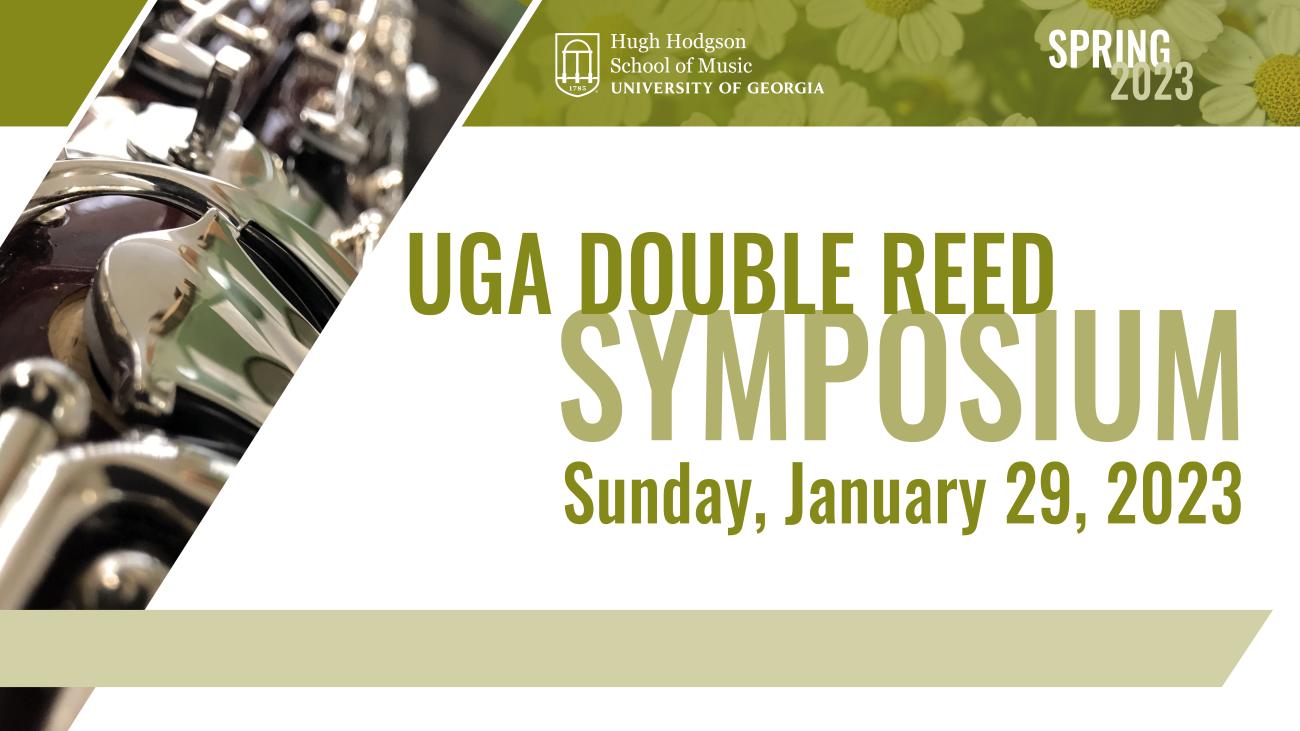 Join us for the 2023 University of Georgia Bassoon and Oboe Symposium on Sunday, January 29, 2023!  We will have a wonderful day full of classes, performances, vendors, and more. Our guest artists this year are Catherine Van Handel, principal bassoon of the Milwaukee Symphony and faculty at the University of Wisconsin-Milwaukee, and Eric Ohlsson, professor of oboe at Florida State University. In addition to master classes with our guest artists and resident UGA faculty members, students will also be able to attend reed class or other elective classes, attend the faculty artist recital, and perform with the symposium double reed ensemble.
We will have a separate master class for beginning students and junior high school students to work on issues unique to starting bassoon and oboe. Students will be able to try out instruments and purchase cane, reeds, instruments, and other accessories from our fantastic vendors: Midwest Musical Imports, Fox Products, Miller Marketing, Nielsen Bocal Supply, and Oboe Chicago.
There will be several spots available for students to play in the guest artist and UGA faculty master classes. Register early to reserve a spot!
Registration is available online this year with a credit card, or applications can be printed and mailed to the address below. The cost of $60 covers attendance, lunch for participants, and a symposium t-shirt. Registration is due by Friday, January 13th in order to secure lunch and a t-shirt.
All events will be held at the UGA Hugh Hodgson School of Music at the address listed below. Parents are welcome for the day's events, but we cannot provide food for parents.
Any questions or concerns can be directed to Dr. Messich (oboe) at rmessich@uga.edu or Dr. Pollard (bassoon) at amypollard@uga.edu. We look forward to seeing you in January!
Schedule:
9:00 Registration and vendor shopping
10:30 Welcome Meeting
10:45 Faculty Artist Recital
11:45 Break and vendor shopping
12:00 Master classes with guest artists
1:30 Lunch and vendor shopping
2:30 Double reed ensemble rehearsal
3:30 Elective Hour: Reed classes and other topics
4:15 Break and vendor shopping
4:30 Master classes with UGA faculty
5:45 Break for final vendor shopping
6:00 Double reed ensemble rehearsal
6:15 Final double reed ensemble concert  
Symposium Faculty Bios

Amy Pollard is the Professor of Bassoon and Associate Director for Performance at the Hugh Hodgson School of Music at the University of Georgia. She formerly served as Lecturer of Bassoon at Baylor University and has also been on faculty at the University of Dayton and the Cincinnati School for the Creative and Performing Arts. During the summer she has been on the faculty of the Interlochen Arts Center Advanced Bassoon Institute, the UGA Study Abroad program in Alessandria, Italy, the Saarburg Music Festival in Saarburg, Germany, and the Atlanta Chamber Music Festival. She has taught master classes at conservatories and universities throughout the United States and internationally as well as serving as a guest artist for numerous double reed festivals and clinics.  

Pollard holds positions as principal bassoon with the Atlanta Ballet Orchestra and second bassoon with the Cincinnati Chamber Orchestra. She is an active freelance performer with orchestras throughout the country including the Hilton Head Symphony Orchestra, Atlanta Symphony Orchestra, North Carolina Symphony, Greenville Symphony, Virginia Symphony, Symphony Orchestra Augusta, Kentucky Symphony Orchestra, and the Dayton Philharmonic Orchestra, among others. Pollard also serves on the administrative board for the Meg Quigley Vivaldi Competition and Symposium as part of the Competition Committee. 

Pollard has presented solo recitals at venues across the country and internationally and has performed as a soloist with the University of Georgia Symphony Orchestra, Wind Ensemble, and Wind Symphony as well as with the University of Cincinnati College-Conservatory of Music Chamber Players. An avid chamber musician, she has performed at venues throughout the country and also in Ireland, Belgium, Argentina, Italy, and Germany with such groups as the Georgia Woodwind Quintet, the Baylor University Woodwind Quintet, the Dayton Philharmonic Orchestra Woodwind Quintet, and the University of Cincinnati College-Conservatory of Music Chamber Players. Her bassoon-percussion duo, Col Legno and her bassoon duo, Dueaux, have performed recitals and presented master classes at numerous venues throughout the country. 

Pollard's debut solo album, Ruminations: Bassoon Works of Eugène Bozza, and the Georgia Woodwind Quintet's CD Chroma were both released by Mark Records and are available on iTunes.   

Pollard received her Doctor of Musical Arts and Master of Music degrees from the University of Cincinnati College-Conservatory of Music, and a Bachelor of Music degree from Louisiana State University, studying with William Winstead and William Ludwig. 

 

Reid Messich serves as Associate Professor of Oboe at the University of Georgia where he is an active member of the Georgia Woodwind Quintet. Messich also serves as Co-Principal Oboist with Memphis's IRIS Orchestra, under the direction of Maestro Michael Stern and as the Principal Oboist of the Hilton Head Symphony Orchestra, under the direction of Maestro John Morris Russel. Each year during the summer months, Messich serves as instructor of oboe and woodwind literature at the MasterWorks Music Festival. In demand, Messich maintains an active international and national performance career as an orchestral musician, soloist, and clinician. He has presented recitals and been a guest artist at the International Double Reed Society on numerous occasions. Under the direction of Joseph Silverstein, he toured Japan and in 2017 Messich performed and taught at the Harbin Summer Music Festival in China.  

Messich has performed with many of the world's greatest musical artists and has played under the baton of prestigious conductors such as Christoph von Dohnanyi, Christoph Eschenbach, Otto-Werner Mueller, Sir Roger Norrington, Sir Simon Rattle, David Robertson, Mstislav Rostropovich, Wolfgang Sawallisch, Robert Spano, Yuri Temirkanov, and Hans Vonk.

Messich records on the Mark Masters label. The CD Chroma, featuring the Georgia Woodwind Quintet, can be found on ITunes as well as his recording of Bozza's Suite breve en trio. In 2016 he was part of the world premiere as well as recording solo artist for Christopher Stark's, Velocity Meadows, for solo oboe, wind ensemble, and electronics. 

Messich received his Bachelor of Music degree at the prestigious Curtis Institute of Music where he studied under the direction of Richard Woodhams. He received his Master of Music degree and Doctor of Music degree from the Florida State University where he studied with Dr. Eric Ohlsson. His other primary teachers include, Elaine Douvas, John Mack, and Joseph Robinson.  Messich performs on a Yamaha YOB 841 Duet Series. In his spare time Messich is an avid Pittsburgh Steeler fan and enjoys spending time with his wife, Kaitlin, and daughter, Lowry.

 
Guest Artist Bios

Catherine Van Handel was appointed principal bassoon by conductor Edo de Waart with the Milwaukee Symphony Orchestra, holding the Muriel C. and John D. Silbar Family Bassoon Chair, in 2017. Prior to her joining the Milwaukee Symphony, she won the associate principal bassoon position with the Toronto Symphony Orchestra under conductor Peter Oundjian and worked for one and a half seasons. While Van Handel was studying at the Curtis Institute of Music, she held the principal bassoon position with the Harrisburg Symphony Orchestra. Chen has performed with numerous orchestras across the country including the Philadelphia Orchestra, Chicago Symphony Orchestra, National Symphony Orchestra, Grant Park Orchestra, Kansas City Symphony, Virginia Symphony, and Richmond Symphony. Catherine has worked under such world-renowned conductors as Sir Simon Rattle, Yannick Nézet-Séguin, Andris Nelsons, Fabio Luisi, Lorin Maazel, Stéphane Denève, and Osmo Vänskä, among many others.

As a soloist, Van Handel appears regularly with the Milwaukee Symphony and is recognized for her "elegant, buttery tone" (The Shepherd Express).  Her Mozart concerto performances with the Milwaukee Symphony Orchestra was described as, "One rarely hears the Mozart bassoon concerto and, for that matter, rarely hears bassoonists performing concertos. [Van Handel's] performance was a lovely reminder of the lyrical and technical possibilities of the instrument. She played with a polished, warm sound, full of color and nuance…the cadenzas, which she had written, revealed some technically pristine, wonderfully musical playing" (Milwaukee Journal Sentinel). Van Handel has also had solo engagements with The Philadelphia Orchestra, "The President's Own" United States Marine Band, and The Juilliard School's Pre-College Orchestra, and has been hailed by the Philadelphia Inquirer as, "assured and startlingly lyrical, [her solo] signaled an orchestra-wide philosophy". In addition, Van Handel is a member of the Fulton Chamber Players. She is also involved in performing new works. In 2015, she gave a world-premiere of the Tanganera Astoriana, a tango written by Rui dos Reis for bassoon and piano at Curtis Field Concert Hall.

Catherine Van Handel is on the bassoon faculty at the University of Wisconsin-Milwaukee. She has given masterclasses in the United States and abroad. She has conducted masterclasses and coachings with New World Symphony, Bassoons Without Borders, University of Wisconsin-Milwaukee, University of Wisconsin-Madison, University of Wisconsin-Stevens Point, Oklahoma State University, Chicago Youth Symphony Orchestra, and Escuela de Artes Musicales in San José, Costa Rica. She has also been a guest teaching artist at the 2022 Glickman-Popkin Bassoon Camp. Van Handel has previously served on bassoon faculty at the University of Toronto and at Curtis Summerfest teaching the Young Artist Summer Program. In addition, Van Handel has served on bassoon faculty at the National Orchestral Institute + Festival (NOI + F) and the Pacific Music Institute in Honolulu, Hawaii, where its program began an exciting new partnership with NOI + F.

During her summers, Van Handel has participated at prestigious music festivals such as Marlboro Music School and Festival, Tanglewood Music Center, Mainly Mozart Festival by invitation of violinist David Chan, Music from Angel Fire Festival by invitation of violinist Ida Kavafian, North Shore Chamber Music Festival by invitation of violinist Vadim Gluzman, Music Academy of the West, Castleton Music Festival, Pacific Music Festival, National Orchestral Institute + Festival, Britt Music & Arts Festival Orchestra and Lakes Area Music Festival. Van Handel has also performed at Carnegie Hall through the New York String Orchestra Seminar during Christmastime of 2010. In 2012, Van Handel was selected as one of three bassoonists to participate in an orchestral masterclass given by Stefan Schweigert, Principal Bassoon of the Berlin Philharmonic, in New York City at the Berlin Philharmonic at Carnegie Hall Workshop.

Originally born in Taipei, Taiwan, Catherine Van Handel began her musical studies playing the piano at the age of four and the cello at the age of five. Van Handel moved with her mother and siblings to the United States when she was six years old. She continued playing both piano and cello until beginning to play the bassoon at age fourteen. She started her bassoon education under the tutelage of Joyce Kelley, former principal bassoon of the New York City Opera, and went on to study with Marc Goldberg, former associate principal Bassoon of the New York Philharmonic, at the Pre-College Division of The Juilliard School. Catherine later received her Bachelor of Music from the Curtis Institute of Music, where she studied with Daniel Matsukawa, the principal bassoon of the Philadelphia Orchestra.

 

Dr. Eric Ohlsson enjoys a significant musical career that is varied and far reaching in scope. He is dedicated to both performing and teaching on a national and international scale. His primary position is as the Charles O. DeLaney Professor of Oboe in the College of Music at Florida State University, a post he has held since 1986.

Ohlsson performs regularly as principal oboist of the Tallahassee Symphony, the Palm Beach Opera Orchestra, and in the summer months, with the Brevard Music Center Orchestra, where he has been a member of the Artist Faculty since 1994.

He was formerly principal oboe of the Naples Philharmonic (1986-96), the Columbus Symphony (1975-80), the Augusta Symphony (1982-86), and the South Carolina Philharmonic (1980-86). Additionally, he has played in the same capacity as a guest performer with groups such as the Charlotte Symphony, the Florida Orchestra, and the Jacksonville Symphony.

He has many engagements to his credit as a recitalist and chamber musician the US, Canada, Europe, and South America, and has given solo and chamber recitals at venues such as Weill Recital Hall in New York City, Teatro Colon in Buenos Aires, the Brevard Music Festival in North Carolina, with the City Music Chamber Orchestra in Cleveland, at the Casa Rui Barbosa in Rio, at the Philharmonic Center for the Arts in Naples, Florida, and at the Grand Castle of Vianden in Luxembourg, to name a few. He has performed at Conferences of the International Double Reed Society on ten separate occasions.

Ohlsson has been a featured soloist with the Naples Philharmonic, the Tallahassee Symphony, the Augusta Symphony, the Pro Musica Chamber Orchestra, City Music Cleveland, the Brevard Music Center Festival Orchestra and Brevard Sinfonia, the South Carolina Philharmonic, the South Carolina Chamber Orchestra, the Florida State Chamber Orchestra, and the University Orchestras of Florida State University and The Ohio State University. His repertoire includes the concertos of Haydn, Mozart, Strauss, Francaix, Martinu, Vaughan-Williams, and Zwilich.

As a pedagogue, Ohlsson has taught hundreds of young oboists at FSU, Brevard Music Festival, and at the Vianden International Music Festival. Many of these students now hold important positions as university professors, symphonic performers, and educators across the country. He has also taught at the University of South Carolina, the South Carolina Governors School of the Arts, Otterbein College, and Denison University.

His degrees are from The Ohio State University (DMA and MM) and James Madison University (BME). His most influential teachers are John Mack, William Baker, James Caldwell, Ben Wright and Travis Cox.