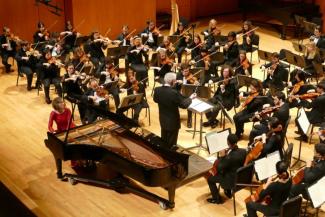 The Hugh Hodgson School of Music's piano department features internationally recognized faculty, attracting talented young musicians from the United States and abroad. The Hodgson School became Georgia's first All-Steinway School in 1996 and boasts outstanding performance and practice facilities with keyboard instruments maintained by two full-time Steinway-trained piano technicians. 
Piano students at the Hodgson School enjoy countless opportunities for solo and ensemble performances, including annual concerto competitions. Students have the opportunity to participate in and collaborate with the Hodgson School's numerous small chamber ensembles, orchestras, bands, and choirs. 
Additionally, students can gain valuable experience as educators through teaching at UGA's Community Music School and participating in numerous other experiential programs, including international collaborations in remote piano teaching. Scholarships and graduate teaching assistantships are available to qualifying applicants.