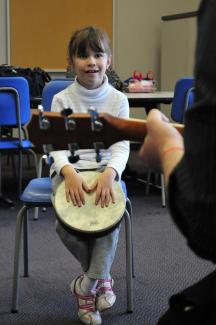 The Hugh Hodgson School of Music's music therapy program features internationally recognized faculty, attracting aspiring and current music therapists from the United States and abroad. 
Undergraduate music therapy students at the Hodgson School learn from intensive, hands-on instruction, and gain extensive interactive clinical experience by participating in our experiential learning and community outreach programs. Students have the opportunity to participate in and collaborate with the Hodgson School's numerous small chamber ensembles, orchestras, bands, and choirs, and hold an annual Music Therapy Musicale each year. 
Students in the graduate program experience in-depth study of the practice of music therapy, including research, clinical applications, and current developments in music therapy theory and practice. The faculty and resources in the Hodgson School also provide opportunities for students to develop their musical skills and knowledge in areas such as Music Theory and Composition, Musicology and Ethnomusicology, Jazz/Improvisation Studies, and Applied Music. Graduates of this program will be prepared to continue their careers as music therapists and to pursue doctoral studies in music therapy as well as meeting the minimum educational requirements for teaching music therapy at the undergraduate level. 
Academic Programs