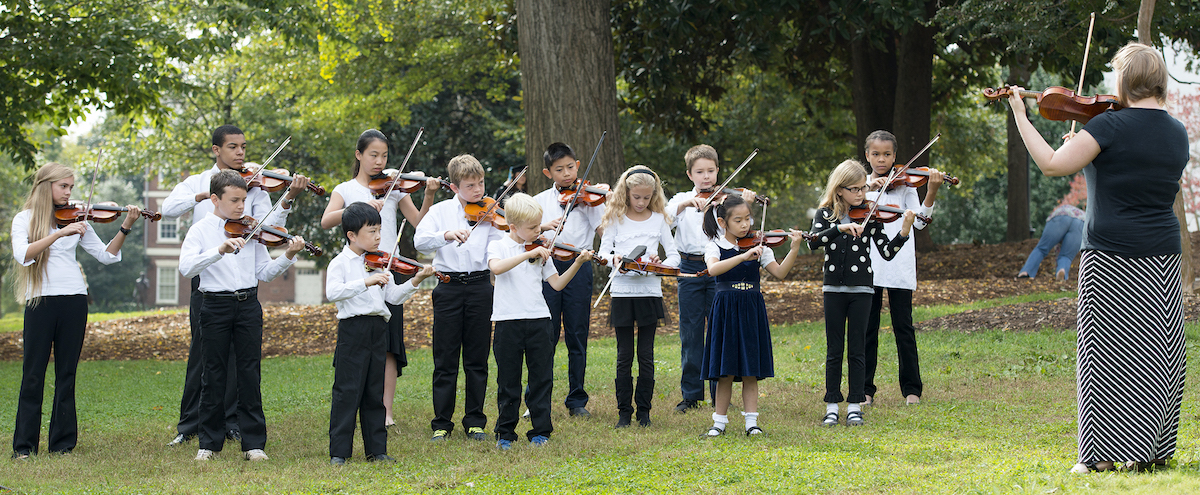 The Suzuki method was developed by Dr. Shinichi Suzuki, son of a Japanese violin-maker.  Born in 1898, he learned violin on his own for many years before traveling to Berlin in the 1920's for further study.  While struggling with the German language himself, he noted that children all over the world learn to speak their native languages with ease - with nearly 100% success rate - regardless of how complicated it might be.  Dr. Suzuki studied this process and realized some of the key ingredients, then applied those techniques towards music study. Below you will find some of the aspects of the method that contribute to student success in the Suzuki Method.
EVERY CHILD CAN LEARN: At the heart of the Suzuki Method is the belief that Every Child Can Learn. Suzuki teachers teach with the belief that talent is not something that is inborn, but something that is developed through environment. Yes, some students will acquire musical skills easier than others, but Suzuki teachers believe that all students are capable of becoming fine musicians, recognizing refinement and beauty, when the proper environment is provided. Suzuki teachers work closely with the parents of their students to assist in developing this environment at home and in the lessons.
PARENTAL INVOLVEMENT: Parental involvement and commitment are very important since the beginning Suzuki student is often as young as 4 years old. It is best if one parent chooses to take on the responsibilties of attending all lessons, group lessons, and assisting with daily home practice. During the weekly private lesson, the Suzuki teacher will train the parent to be the "home practice coach" or "practice parent" during the week.
EARLY BEGINNING: It is proven that the ability to hear and learn begins in-utero! It is never too early to begin musical training in some form or another. Formal private instruction in the Suzuki Method usually begins as early as 4 years old. Learning by ear initially enables a child to begin learning to play before they are able to read or recognize the symbols of letters and numbers.
LISTENING: Children learn to speak by listening to their parents speech patterns, and then imitating.  Children progress quickly when their efforts are met with praise and encouragement at every step.  Very young children frequently develop large vocabularies with very little effort. Suzuki students develop their musical vocabulary by listening daily to recordings of the music they will be learning. When students listen to the Suzuki recording regularly, the aural vocabulary of beautiful sound, playing in tune, playing with a good rhythmic pulse, as well as musical phrasing and dynamics become part of their playing with little effort, not to mention the notes and rhythms of the pieces they will play.
DELAYED READING: Suzuki students develop their musical ears before they are introduced to notes on a staff, just as children are not expected to read their language before they speak.  Initially, Suzuki students listen to, and learn to play, a number of pieces by ear rather than reading the notes on the page. Not being distracted by the musical page allows students to concentrate on developing a balanced posture, and a beautiful sound.  Music reading is delayed until the elements of posture and good tone are developed, although pre-reading exercises begin as early as the first lesson.
REVIEW REPERTOIRE: Just as repeating words over and over again refines speech, and just as we don't throw out our early words but retain them as part of our vocabulary, playing past musical repertoire mindfully refines musical skills, and is the key to becoming a master of the techniques and skills presented throughout the method. "Old" songs are retained and new concepts are applied, bringing those older pieces to a higher level of musicality and ability.
PRIVATE AND GROUP INSTRUCTION: The Suzuki Method is based on the combination of a weekly private lesson and a weekly group class.   While private instruction is necessary to learn and master the finer details of string playing, group classes serve to motivate and inspire children of all levels and ages.  Suzuki teachers use creative strategies to work on common skills during the group classes including musical games and exercises. 
SUZUKI TRIANGLE: The success of the Suzuki Method for each child lies in the strength of this triangle. Parent and Teacher must work closely together to ensure the Child's success. Communication and partnership between all 3 members of this triangle are essential, and Suzuki teachers are specially trained and experienced in working with children and their parents to guide, inspire, encourage, and motivate.