Image: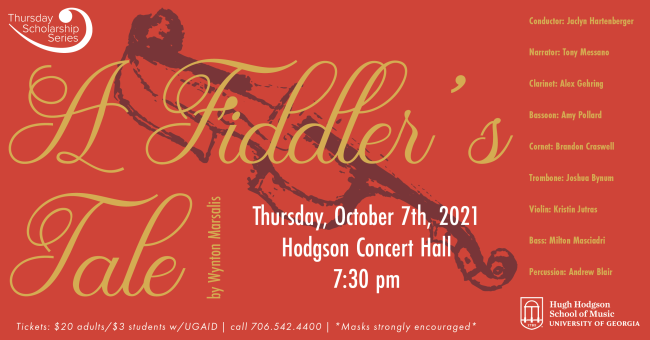 An all-star group of University of Georgia faculty joins together on the Hodgson Hall stage to perform Wynton Marsalis' A Fiddler's Tale as part of the Hugh Hodgson School of Music's Thursday Scholarship Series on Oct. 7 at 7:30 p.m.
This program consists of just one piece: Wynton Marsalis' Fiddler's Tale. It is based on the same instrumentation as Stravinsky's Soldier's Tale from the perspective of later twentieth century music, including but not limited to jazz. The piece is scored for violin, bass, clarinet, bassoon, trumpet, trombone, percussion, and narration.
"This has been such a fun and challenging project for us. The music has stretched us beyond the traditional classical version of Stravinsky's Soldier's Tale, presenting us with a jazzy take on familiar instrumentation," said Professor of Trumpet Brandon Craswell.
The faculty and student chamber group are conducted by the new Interim Director of Bands, Jaclyn Hartenberger, with Tony Messano narrating. The performers include Alex Gehring, clarinet, Amy Pollard, bassoon, Brandon Craswell, cornet, Joshua Bynum, trombone, Kristin Jutras, violin, Milton Masciadri, bass, and conducting DMA student Andrew Blair on percussion.
"Being able to play with musicians again following COVID is beyond refreshing, and we are all eager to share this unique piece with the audience. This piece will appeal to classical and jazz enthusiasts alike, and tells a captivating story narrated masterfully by Tony Messano," said Craswell.
Tickets to the concert are $20 for adults and $3 for students with a valid ID and can be purchased through the Performing Arts Center Box Office online, by calling 706-542-4400 or in person before the event. Live streaming will be available via https://www.music.uga.edu/live-streaming. If joining in person, the Hodgson School strongly encourages patrons to wear a mask inside the halls and public spaces so that students and faculty can keep the music going.