Image: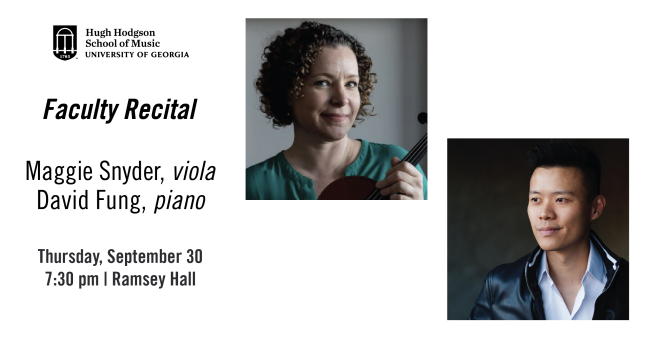 Maggie Snyder and David Fung will come together to perform two deeply delightful works by Robert Schumann for viola and piano, the Fantasiestücke Op. 73, originally for clarinet and piano, and Märchenbilder Op. 113 for viola and piano. The two pieces, while typically Schumann-esque in nature, are distinctly different in their characters: the Fantasiestücke being a more light and vibrant work, and the Märchenbilder being one that has more melancholy.
The rest of the program focuses on viola alone in a few different scenarios, starting first with the Georgia premiere of the newly revised Rhapsody No. 1 (viola version Jan 2021) by Jessie Montgomery. Jessie wrote the piece, she says. as a way to get her own playing back into shape, and it's most definitely a whirlwind experience of modern technique requiring prowess.
The next work by Gity Razaz was commissioned by Maggie Snyder for her VIOLA2020 project which was postponed due to concert cancelations during the pandemic. The world premiere occurred in November 2020 virtually, but this performance will be the 1st performance of Spellbound (2020) for a live public audience. Professor Snyder will include Spellbound on her commercial recording upcoming 2022 for the culmination of what was originallyVIOLA2020, now rebooted as VIOLA20-2! The concert will conclude with the gnarly solo viola sonata Op. 25, No. 1 by Paul Hindemith.
The concert is scheduled for Thursday, September 30 at 7:30 p.m. in Ramsey Hall and is presented admission-free. If you are unable to attend, live streaming is available. Visit www.music.uga.edu/live-streaming to tune in. Audience members are encouraged to wear masks.