Image: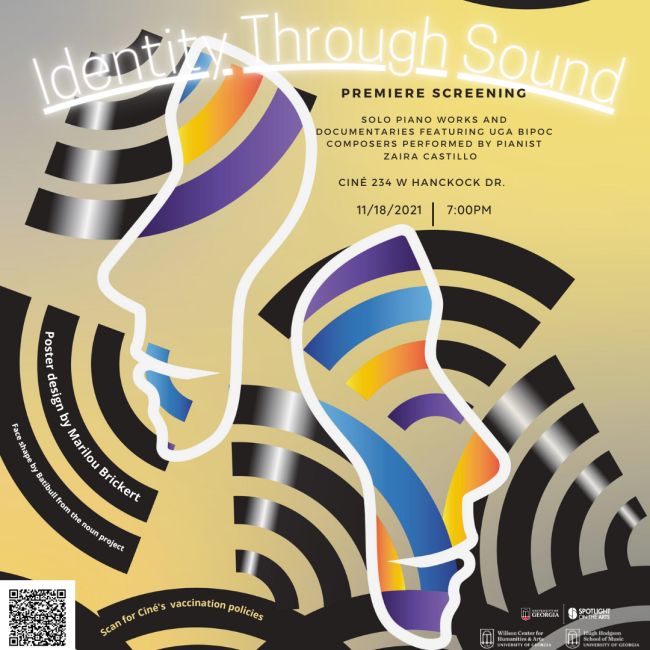 THURSDAY, NOVEMBER 18, 7 PM, CINÉ, IDENTITY THROUGH SOUND
Zaira Castillo, 2020-21 UGA ArtsLab Fellow and recipient of Willson Center Graduate Research Award, presents the premiere screening of a documentary including world-premiere performances of specially commissioned musical works.
Identity through Sound is a project aiming to showcase how identity and upbringing can be inspiration to composition. By understanding the unique perspectives behind each composer's piece, we can begin to reflect on the importance of self-expression through composition. This premiere will showcase five solo piano works, performed by pianist Zaira Castillo. These works have been written by UGA and Athens-based composers of the BIPOC community. 
Alongside the solo works, there will be corresponding documentary videos by composers entailing their upbringings navigating the world of music and composition as people of color. This event will be followed by a Q&A session with the composers shortly after. This project hopes to inspire conversations around the need to showcase more music of underrepresented people, especially those in the classical contemporary field. 
This will be a free event, although donations will be encouraged.  All proceeds will go towards supporting the Lift Music Fund, whose mission is to make achievement in music more accessible and equitable. More information on Lift Music Fund can be found at liftmusicfund.org. 
Presented as part of the Spotlight on the Arts Festival.