Image: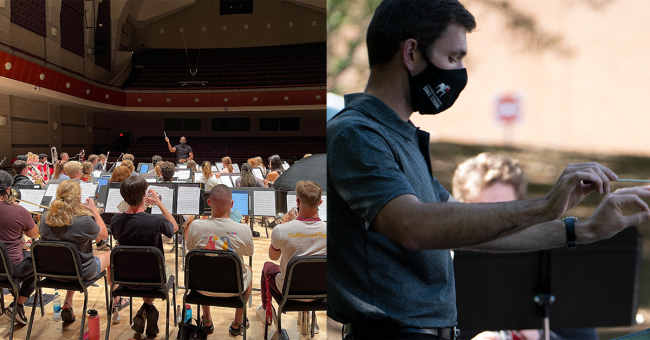 On Wednesday, November 17, UGA's Symphonic Band and Wind Symphony perform a combined concert in Hodgson Concert Hall.  The concert is a featured performance in the University's annual Spotlight on the Arts festival.  The program's selections evoke emotions of memorial, remembrance, and hope.
The Symphonic Band's program includes Frank Ticheli's An American Elegy—written after the Columbine school shooting; and John Williams' Hymn to the Fallen—composed for the movie Saving Private Ryan, led by graduate conductor David Stanley.  Graduate conductor Davaron Edwards also performs, presenting Ralph Vaughan Williams' Prelude on a Welsh Hymn Tune Rhosymedre.  Spirited works by wind band luminaries John Mackey (Undertow) and Henry Fillmore (Americans We) are also included.
The Wind Symphony begins the second half with Alfred Reed's A Festival Prelude.  Roshanne Etezady's Against the Rain is performed under the baton of Jeremy Smith, graduate conductor.  Break Forth, O Beauteous Heavenly Light (Schop/Bach) and Luminescense (David Biedenbender) are cleverly paired.  The evening concludes with Omar Thomas' Of Our New Day Begun, a powerful meditation written after the 2015 domestic terrorist attack at the Mother Emanuel A.M.E. Church in Charleston, SC.
The UGA Symphonic Band, under the direction of Dr. Michael C. Robinson, and the UGA Wind Symphony, directed by Mr. Shiree X. Williams, are two of the largest ensembles in the Hodgson School of Music.  Membership is comprised of music majors and minors, with a significant number of other disciplines from across the University.
The performance is scheduled for Wednesday, November 17, 2021 at 7:30 p.m. in Hodgson Concert Hall.  Admission is free and open to the public.  If you are unable to attend, live streaming is available.  Visit www.music.uga.edu/live-streaming to tune in.  For more program information or questions, please contact the band office: 706.542.1505.