Image: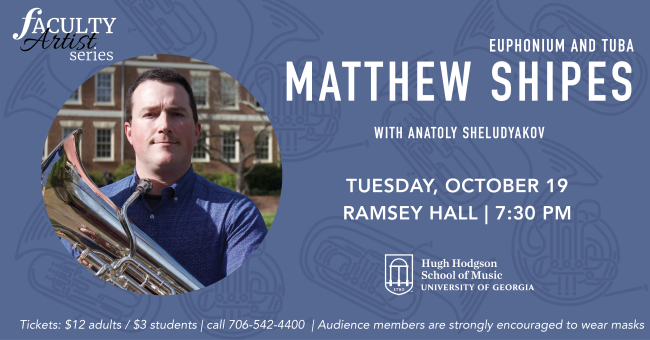 Join us as our fall season Faculty Artist Series continues with a concert by Assistant Professor of Tuba and Euphonium, Dr. Matthew Shipes, at 7:30 in Ramsey Hall on Tuesday, October 19th. Joining him on piano is resident accompanist Anatoly Sheludyakov.
This program will feature several recent, original works for the tuba and the euphonium, all of which will be recorded on an upcoming CD this fall. Dr. Shipes will perform with Dr. Sheludyakov on piano for much of the program, as well as with pre-recorded accompaniment.
The concert will begin with a standard Baroque work by Italian composer, Benedetto Marcello with his Sonata in F Major, originally for cello. This is the only piece on the program that is not originally written for euphonium or tuba, and is representative of the wealth of repertoire that exists for all instruments.
Dr. Shipes was a member of the consortium that commissioned A Moment of Truth from composer Drew Bonner. This piece is a meditation put to music, and offers both the performers and listeners a moment of respite from our especially chaotic world.
The first half will conclude with a concerto for euphonium and wind ensemble by Kevin Day, a recent graduate from UGA with a Master of Music in Composition.
The second half of the concert opens with Andrea Clearfield's Hvati for tuba and piano. Hvati was commissioned by Norwegian hornist Froydis Ree Wekre for Norwegian tubist, Øystein Baadsvick.
Elizabeth Raum has enjoyed a career in music spanning over 45 years as an oboist and one of Canada's most prominent composers. She has written many compositions for the tuba and euphonium, and her Romance for tuba and piano draws on this experience, creating a very vocal, Romantic sounding song without words.
The last piece on the program is for tuba and digital recording, entitled Let There Be Funk by D. Edward Davis. Funk is a 9-minute romp that moves between several different pop-styles of music, all of which draw heavily from jazz.
The concert will be streaming live at music.uga.edu/live-streaming. Tickets are $12 without a UGA ID and $3 for students. Masks are strongly encouraged. Click HERE to purchase tickets online.