Image: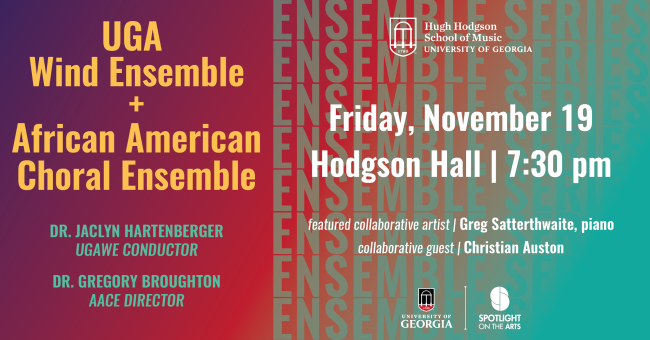 Join the African American Choral Ensemble and the UGA Wind Ensemble as they share the stage in a combined concert on Friday, November 19 at 7:30 p.m. 
Part of UGA's Spotlight on the Arts festival, the program features works by composers Adolphus Hailstork, William Grant Still, Kirk Franklin, Jonathan McReynolds, and Kevin Day, among others. Dr. Gregory Broughton, director of AACE, describes the experience of bringing this music to life: "The composers leave us their thoughts and ideas in black on white and only request that we communicate their intended messages in high-definition technicolor passion." 
From its rich beginnings in the early 70's as the Pamoja Singers, the University of Georgia African American Choral Ensemble (AACE) has endeavored to keep concert halls and churches filled with the powerful sounds and wealth of indigenous musical treasures birthed from the African American experience. Since its earliest days at UGA, AACE has been a beacon tower of fellowship and friendship for the university community. Herein, people of many cultures come to share and learn the messages of hope, love and liberation that have sustained a people and this nation.
Led by Dr. Jaclyn Hartenberger, the Wind Ensemble has earned an international reputation for its artistry, precision, sensitivity, and musicianship. Membership, determined each semester by blind audition, includes the most accomplished graduate and undergraduate UGA music majors. Employing flexible scoring, the Wind Ensemble (one musician per part) performs chamber works as well as large scale compositions, fresh ink and classics, and music from around the world.
The performance is scheduled for Friday, November 19 at 7:30 p.m. in Hodgson Concert Hall. Tickets are $12 for adults, $3 for students. If you are unable to attend, live streaming is available. Visit www.music.uga.edu/live-streaming to tune in.