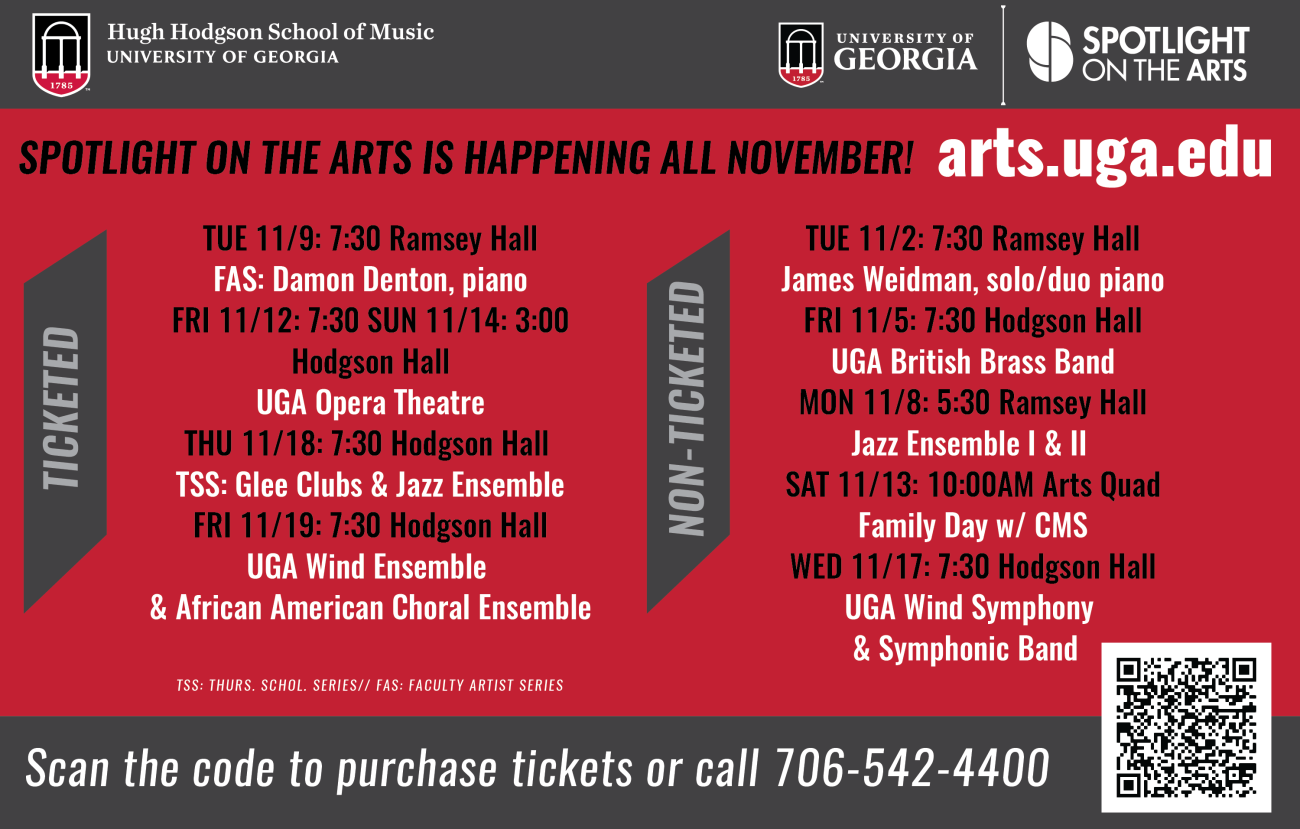 HHSOM Spotlight on the Arts 2021
Monday, November 15, 7:30 pm, Edge Hall: first year horn Studio
The first year horn students will perform their first group recital at 7:30 on November 15th. This is a longstanding tradition so the players can experience the fun of performing for an audience in Edge Hall. This year it is "French Music for the non-French Horn" (as the design of the horn is German). Everyone is playing a lyrical work by a French composer, including Camille St. Saens, Jean-Michel  Damase, Jean Françaix, Maxime-Alphonse, and Jeanine Rueff. The concert will conclude with a new composition for five horns composed by first year student horn and composition student Marianna Schwark.
Wednesday, November 17, 6 pm, Edge Hall: Sax Studio
Join two student saxophone quartets from the UGA Saxophone Studio for an exciting program of classic and contemporary music. You've never heard saxophones sound quite like this before -- don't miss it!
Thursday Scholarship Series, Nov. 18th, 7:30, Hodgson Hall

: Jazz Ensemble I and Glee CLubs
Jazz Ensemble I, which is directed by David D'Angelo, will be performing notable classics from the big band libraries of composers from both the past and present. Selections featured will be from the Duke Ellington, Count Basie, and Dizzy Gillespie libraries as well as current writers Mike Tomaro and Eric Richards. Student soloists will be featured in each selection. The second half of the program features both the Women's and Men's Glee Clubs, directed by J.D. Burnett, Associate Director of Choral Activities and Area Chair. They will present pieces about the symbolism of daytime, including works by Fine, Russo, Lange, Johnson and Walker. The Men's Glee Club will sing staples of the men's chorus repertoire by Thompson, Hogan, Chesnokov, Dickau, and Tormis, and will conclude the concert with the well-known Georgia Medley.
Thursday, November 18, 7 pm, Ciné, Identity Through Sound
Premiere Screening and Conversation: 
UGA's 2021-2022 ArtsLab Fellow, brings together Identity Through Sound, a project aiming to showcase how identity and upbringing can be inspiration to composition. By understanding the unique perspectives behind each composer's piece, we can begin to reflect on the importance of self-expression through composition. This premiere will showcase five solo piano works performed by pianist Zaira Castillo. These works have been written by Christopher Hernandez, Claudia Beroukhim, Caitlin Santos, Pedram Diba and Ayako Peterson Takeda. Alongside the solo works, filmed and recorded by Andrew Collins and Casey Michael O'Neal, there will be corresponding documentary videos produced by Lodi Castillo, of composers entailing their upbringings navigating the world of music and composition as people of color. This event will be followed by a Q&A session with the composers shortly after. This project hopes to inspire conversations around the need to showcase more music of underrepresented people, especially those in the classical contemporary field. The creators are grateful to The Willson Center for Arts and Humanities, Ciné, and all others who were a source of support during the making of this project! 
Thursday, November 19, 3:30 pm, Ramsey Hall: UGA Flute quartet
The UGA Flute Quartet, under direction by Angela Jones-Reus, will be performing duos, quartets, flute choir works (entire studio) and a work writen for flute sextet and marimba by UGA graduate Kevin Day (see website below)  Kylan Bigby is our guest marimba player and he is in the studio of Tim Adams. They will be performing on a number of flutes in the flute family: piccolo, concert flute, alto flute and bass flute, offering a variety of works ranging from JS Bach to Kevin Day. Free admission.
Thursday, November 19, 7 pm, 

Hodgson Hall: UGA wind ensemble and african american choral ensemble concert (es)
The University of Georgia African American Choral Ensemble under the direction of Gregory Broughton will perform in a joint concert with the UGA Wind Ensemble on November 19, 2021 at 7:30pm in Hodgson Concert Hall.  AACE will present works by Adolphus Hailstork, William Dawson, Wendell Whalum, Marvin Curtis, Moses Hogan as well as traditional and contemporary Gospel songs. 
Led by Dr. Jaclyn Hartenberger, the UGA Wind Ensemble has earned an international reputation for its artistry, precision, sensitivity, and musicianship. Membership, determined each semester by blind audition, includes the most accomplished graduate and undergraduate UGA music majors. Employing flexible scoring, the Wind Ensemble (one musician per part) performs chamber works as well as large scale compositions, fresh ink and classics, and music from around the world.
Past Events:
Tuesday, November 2nd, 9:40-10-50 am, Edge Hall: MUSI 42/6270 Class and guest artists
The Chinese Music Ensemble in Dr. Kidula's class will perform a program of Chinese music with guest artists. Joining the students are Yang Chun Lu (Erhu), Huang Rongfu (Yangqin), Yusheng Hsu (Erhu), and Longsheng Zhang (Erhu). For the program, click HERE.
Tuesday, November 2nd, 7:30 pm, Ramsey Hall, Faculty Concert: James Weidman, piano
James Weidman will be featured in a solo/duo piano recital featuring special guests Gregory Broughton and David D'Angelo. The musical selections will include Weidman's compositions along with music by jazz composers John Lewis and John Coltrane. Also included are selections by American Songbook Composers, Irving Berlin and Jule Styne. Gregory Broughton will sing James' composition, "I'm Telling You, Now" David D'Angelo will perform James' composition, "Soulmates."
Thursday, November 4th, 7:30 pm, Hodgson Hall:

Hodgson Singers/University Chorus
This long-awaited choral program, entitled, "Hard Times Come Again No More" will feature both the University Chorus and the UGA Hodgson Singers.  The University Chorus (JD Burnett, artistic director/conductor) will be conducted by assistant conductor and DMA conducting student, Sarah Frook Gallo in a program spanning three centuries of choral/orchestral repertoire and featuring Fanny Mendelssohn Hensel's rarely performed Hiob Cantata, a Bach-inspired Romantic cantata on texts from the book of Job, written in 1831.  Works by Giovanni Martini and living composer, Michael John Trotta round out this first half of the program with texts expressing urgent pleas for divine assistance and those offering resounding hope. 
The Hodgson Singers will perform the second half of the concert under the direction of John D. Boyd UGA Foundation Professor of Music, Daniel Bara.  The concert will take place exactly 609 days after the choir's last public concert as a full ensemble on March 5, 2020, and will showcase several new pieces including the profoundly yearning, Agnus Dei by Cuban composer, Ernesto Herrera, alongside works by living American composers Elaine Hagenberg, Reena Esmail, and Shawn Kirchner.  In addition to themes of supplication and longing, the concert will include pieces offering thanksgiving for the new day in a pairing of Kurt Weill's poignant and jazzy Shabbat blessing, Kiddush, and Dan Forrest's i thank you God for most this amazing day, featuring UGA student instrumentalists. A triptych of folksong selections spanning the cultures of India, the country of Georgia, and the Philippines will offer variety of style and timbre before the program closes with Sarah Quartel's Sing, My Child and Moses Hogan's intimate and rousing arrangement of This Little Light of Mine.  UGA violin professor, Levon Armbartsumian, makes a cameo appearance as violin soloist in Shawn Kirchner's lush and evocative arrangement of the Stephen Foster classic song, Hard Times Come Again No More.
Friday, November 5th, 4:30-5:45, Zoom: Athens hip hop harmonic panel
The Athens Hip Hop Harmonic is a collective of local Hip Hop artists and University of Georgia music faculty/students that seeks to use music to celebrate the intersection of our musical, cultural, and racial identities. This session features the world premieres of co-created, boundary-breaking works by three pairs of Hip Hop artists and UGA faculty composers, with a live narrative and audience Q&A focused on the artistic inquiry and creative process that built this collaboration.
This event is part of the a2ru 2021 National Conference, "Sharing Stories: The Case for Art." It will be presented online via Zoom - please use this link to attend.
Featured panelists are Connie Frigo, Hip Hop artist Curtis "Caulfield" Jones, Emily Koh, and Hip Hop impresario and promoter Montu Miller, facilitated by Mark Callahan, artistic director of UGA's Ideas for Creative Exploration. 
Friday November 5th, 7:30, Hodgson Hall, UGA British Brass Band
The UGA British Brass Band will be featuring music by outstanding composer, James Curnow. Having been commissioned to write over 400 works for concert band, brass band, orchestra, choir and various vocal and instrumental ensembles, his total published works now number well over 800! He has taught all areas and levels of instrumental music, and has received numerous awards for teaching and composition, including the Outstanding Educator of America, the Citation of Excellence from the National Bandmasters Association, the North American Brass Band President's Award, the Volkwein Composition Award (twice), the American Bandmasters Association Ostwald Award (twice), the International Competition for Original Compositions for Band, and the Coup de Vents Composition Competition of Le Havre, France.
This "composer" oriented program will also feature world premiere compositions by our own Dr. James Naigus, and Cameron Gwynn, a former HHSOM composition grad, now working on his MM at Miami's Frost School of Music.
Dr. Naigus will also be featured as soloist on a couple of short works by his teacher, Dr. Paul Basler from University of Florida.
Another young composer and former Solo Euphonium player of the James Madison University Brass Band, Dr. Joel Collier, will have his composition "Annie Laurie" performed.
Monday Nov. 8th, 5:30 p.m., Ramsey:

 

Jazz Ensembles I and II
Jazz Ensemble II, which is co-led by new jazz piano faculty Professors James Weidman and Greg Satterthwaite, will open the program. This group will be followed by Jazz Ensemble I led by Director of Jazz Studies, David D'Angelo. Both ensembles will perform works of composers from both the past and present playing a variety of jazz styles that will feature ensemble sections as well as outstanding student soloists.
Tuesday, November 9th, 7:30, Ramsey Hall: Faculty Artist Series: Damon Denton
Damon Denton, will be performing on the UGA Faculty Artist Series November 9 at 7:30pm in Ramsey Hall. He was a top prize winner at the Fourth International Piano Competition held in Pretoria, South Africa and is one of our two faculty collaborative pianists at the Hugh Hodgson School of Music.
The evening program will present music of FRANCE, his lineage being half French on his mother's side Works include: 3 short works by Mompou; the Poulenc Nocturnes; Ravel's "Jeux d'eau"; Boulanger's three pieces for Viola and Piano (with guest string faculty, Maggie Snyder); Chopin's Nocturne in D Flat Major; and Chopin's Andante Spianato and Grand Polonaise closing the concert.
wednesday, Nov. 10th, 7:30, ramsey Hall: Trombone choir & ensemble concert
The UGA Trombone Choir & Hodgson Trombone Ensemble will present Darkest Before the Dawn on Wednesday, November 10th at 7:30pm in Ramsey Hall. Admission is free, and the event will also be live streamed at https://music.uga.edu/live-streaming. The program will feature several original works for trombone choir including a world premiere of a new composition by Dr. James Naigus (Lecturer of Horn and Brass Area Chair). Conducting the choir will be doctoral students Kevin Schoeller and Kyle Moore. 
The UGA Trombone Choir & Hodgson Trombone Ensemble are under the artistic direction of Dr. Joshua Bynum. Both groups are comprised of both graduate and undergraduate members of the UGA Trombone Studio and perform several concerts each semester (both campus and outreach).  
Thursday, Nov. 11th, 2:20-3:30, Edge Hall: Jazz Combo's Recital
This recital will feature two small group jazz ensembles directed by David D'Angelo and Greg Satterthwaite. Each group will be playing selections of different jazz styles from the libraries of Sonny Rollins, Cannonball Adderley, and the Modern Jazz Quartet that will feature student soloists and ensemble sections.
Thursday, Nov. 11th, 7:30, Dancz Hall: subaerial collective concert
Subaerial Collective is a trio of UGA faculty composer-performers--Adrian Childs (piano/keyboards), Emily Koh (double bass/electric bass) and Peter Lane (bassoon/contrabassoon). Formed in September 2018, Subaerial Collective champions works that expand the limits of traditional concert boundaries through the use of technology, reinterpretation of performance practice or re-contextualization of the concert experience. The trio has also performed at SPLICE Fest IV, the University of Georgia's Faculty Concert Series, and was in residence at the North Carolina New Music Initiative at East Carolina University in Fall 2021. Subaerial Collective can be heard on Innova Recordings.
Friday, November 12th at 7:30 pm and Sunday, November 14th at 3 pm, Hodgson Hall: UGA Opera Theatre Fall Opera
UGA Opera Theatre Presents: Wargo's A Visit to the Country and Walton's The Bear, two one act operas inspired by the works of Anton Chekov. In Person and Live-streamed from Hodgson Hall.
Saturday, November 13: Family Day, Arts Quad
The tentative schedule is below and if the weather is nice everything will be outside in the courtyard. If not, events will be in the Art Museum auditorium instead. Everything listed below is CMS, but GCC will be performing at 12:15 in between the string demonstration and Suzuki Strings. 
10 AM – Woodwind demonstration
11 AM – Brass demonstration
11:30 AM – New Horizons Band (30 min)
12:00 PM – String Demonstration
12:15 PM – Georgia Children's Chorus performance
12:45 PM – CMS Suzuki Strings
1:15 PM – Percussion Demonstration