Image: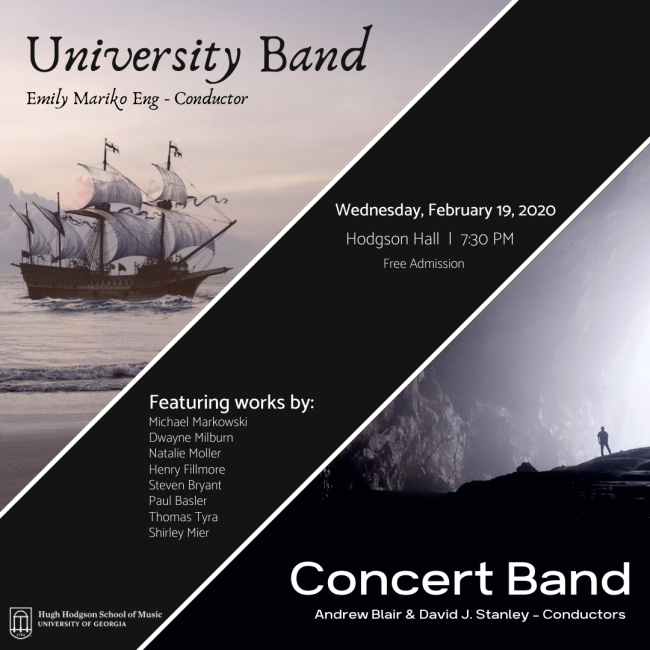 On Wednesday, February 19, UGA's Concert Band and University Band perform a joint concert in Hodgson Hall.  Many of the musical selections relate to journeying.
The Concert Band, under the direction of graduate conductors Andrew Blair and David Stanley, opens the performance with Michael Markowski's The Cave You Fear.  Dwayne Milburn's Meditation uses a familiar hymn tune and American folk melody to represent paths of faith and searching.  In the Shadow of Your Mountain by Natalie Moller chronicles the perspective gained from crossing a mountain.  Henry Fillmore's The Crosley March concludes the first half.
Graduate conductor Emily Eng leads the University Band.  Steven Bryant's Ecstatic Fanfare begins the second half, followed by Paul Basler's Manguilina, which is based on traditional dance rhythms from the Dominican Republic.  Two Gaelic Folk Songs transport the audience to the British Isles.  Shirley Mier's Maiden Voyage is the evening's final expedition, an idealized depiction of a sea voyage aboard a sailing vessel.  
Concert Band and University Band are open to all UGA students each spring semester.  Comprised mostly of students from disciplines other than music, these are the two largest student ensembles in the Hodgson School.  
The performance is scheduled for Wednesday, February 19 at 7:30 p.m. in Hodgson Concert Hall.  Admission is free and open to the public.  If you are unable to attend, live streaming is available.  Visit www.music.uga.edu/live-streaming to tune in.  For more program information or questions, please contact the band office: 706.542.1505.