Image: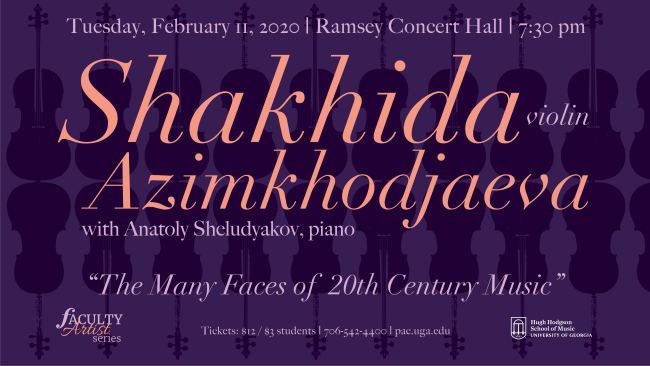 Violinist Shakhida Azimkhodjaeva will perform the program "The Many Faces of 20th Century Music" for her Faculty Artist Series concert Feb. 11 at 7:30 p.m. in Ramsey Hall. The program includes pieces by Martinů, Dohnányi, Prokofiev, Ysaÿe and Szymanowski.
Joining Azimkhodjaeva on her program is University of Georgia collaborative pianist Anatoly Sheludyakov. "I have a privilege to collaborate with the one of the greatest musicians of our day, Anatoly Sheludyakov," said Azimkhodjaeva.
The program opens with Bohuslav Martinů's viola sonata, which was composed towards the end of the Czech composer's life. Written for piano and viola, Azimkhodjaeva will perform on the viola as well for the piece.
"Not many people perform two instruments in one recital. I chose works which are rarely performed, despite being written by the great composers," said Azimkhodjaeva.
The Hungarian pianist, composer, and conductor Ernő Dohnányi's most important chamber work for violin and piano, the Violin Sonata in C sharp minor Op 21 was composed in Berlin in 1912. Sergei Prokofiev's 'Romeo and Juliet,' commissioned by the Kirov Ballet, quickly came to stand amongst the world's most popular ballets. Belgian violinist and conductor Eugène-Auguste
Ysaÿe was inspired to compose violin works that represented the evolution of techniques of his time period and expressed those throughout his compositions. This approach can be heard in his "Sonata No. 4 in E minor." Karol Szymanowski composed his "Nocturne and Tarantella" for violin and piano as a dedication to his friend. The "Tarantella" is written in a relentless Neapolitan 6/8 rhythm, with double stops, left-hand pizzicatos and other exciting effects. 
Azimkhodjaeva, originally from Tashkent, Uzbekistan, joined the violin faculty of the UGA Hugh Hodgson School of Music in 1995. She began violin studies at the Tashkent State Conservatory's Special Music School. At age eleven she made her debut with the Uzbekistan Symphony Orchestra and won the Uzbekistan National Violin Competition.
Azimkhodjaeva graduated from the Moscow Tchaikovsky Conservatory where she studied with Professor Irina Medvedeva. She has toured the world, with recent performances including venues such as Carnegie Hall's Weill Recital Hall and the Moscow Tchaikovsky Conservatory.
Tickets for the concert are $12 for adults and $3 for students. Streaming will not be available for this concert, so prepare to enjoy it in person. For more information about the Hodgson School, please visit music.uga.edu.